Christopher Dyer, Cabinetmakers, have been producing handcrafted furniture in their Oxfordshire workshop for over 30 years.
Our main areas of expertise are hotels, restaurants, offices, universities and luxury yacht interiors. We make fixed and free-standing furniture and work with architects, designers and directly with individual clients.
It is this flexibility, combined with our crafstmanship and attention to detail that has helped establish our reputation as makers of fine furniture, across the UK, France, Italy and the United States.
This web site has been designed to give you an introduction to our work, but should you require further information please contact us.
Blooms Hotel, London.
Belfry Hotel, London.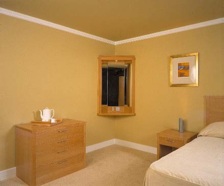 Panoply Collection room setting.