Made in steamed Beech the Panoply range has a simple, sturdy, yet elegant styling. The flared tops and beautifully inlaid diamond of black walnut gives it understated elegance. This is furniture that will impress in any situation.
The range includes wardrobes with doors or open fronted, wall hung corner dressing table, three type of bedside tables, desks, trouser press / ironing board unit, hospitality unit and polished or upholstered headboards. We are also able to supply other, individual pieces, should these be required.
This is a new collection, introduced in May 2000, and the full range is detailed in our 'Collections.......two', brochure.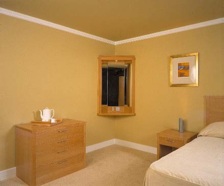 Wall hung dressing table and chest of drawers. view enlargement (max 5sec @ 28Kps)
Bedside table, desk and wardrobe view enlargement (max 5sec @ 28Kps)
Wall hung dressing table and hospitality unit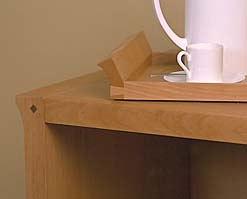 Detailing on tray and side table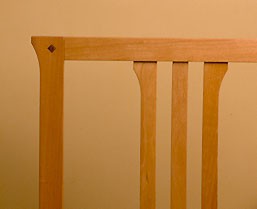 Detailing on chair backs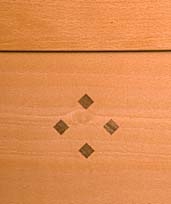 Detailing on double headboard